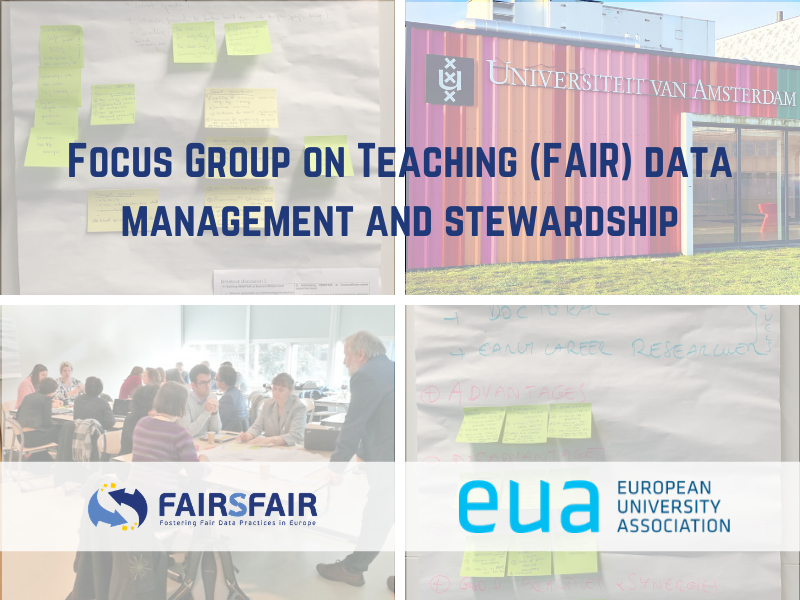 On 19 November, FAIRsFAIR organised a focus group entitled "Teaching (FAIR) Data Management and Data Stewardship". The event was hosted by  the University of Amsterdam in the Netherlands and gathered 26 participants from universities across Europe for an in-depth dialogue about the development and implementation of data-related competences and the Findable, Accessible, Interoperable and Reusable (FAIR) data principles in higher education curricula.
Among the questions addressed by the participants were the following:  At what level and how much should students be exposed to research data management? How can the FAIR principles be addressed in education? What are challenges and good practices in educating and training students and early stage researchers in research data management and the FAIR principles?
The meeting started with a tour de table in which participants were able to share their motivations for joining the discussion, followed by presentations from Lennart Stoy of the European University Association (EUA), introducing the FAIRsFAIR project, and Yuri Demchenko of the University of Amsterdam, showcasing the university's EDISON Data Science Framework & Data Science.
Setting the stage for the discussions, three further presentations highlighted initiatives related to FAIR training, FAIR data stewardship skills for science and scholarship, and a national initiative of data steward education. The speakers were Angus Whyte, DCC (EOSCpilot and FAIR4S), Celia van Gelder, Elixir, and Michael Svendsen, KB (Royal Danish Library), Denmark.
Focus group participants gathered in breakout groups for discussions on four key topics: 
Teaching RDM/FAIR at Bachelor/Master level; 
Addressing RDM/FAIR at Doctoral/Early-career researcher level; 
Generic Data stewardship and FAIR data competences; 
Disciplinary/domain-specific competences. 
Outcomes
The breakout discussions yielded relevant outcomes to FAIRsFAIR with regard to the main focus group goal of exploring how to develop the data competences of researchers, and examine where and how to acquaint students and staff with the principles of FAIR data.
The following are the common takeaways and recommendations which emerged:
Include teaching on RDM/FAIR for Bachelor/Master and Doctoral/Early-career researcher level, aiming to provide a general understanding of data management requirements in different phases of the research process. Not everyone needs to be a data scientist, but everyone should have a practical understanding of data throughout the research cycle.
Existing support and training materials are too generic and not discipline-oriented. Also, awareness varies across disciplines. Creating the role of data stewards could be a fruitful approach to providing low-threshold discipline-specific support.
There is a lack of coordination regarding all the efforts, initiatives and training materials on a national, European and international level. This hampers the identification of the best resources to use and implement within the universities' curricula. As such, there is a need to harness international resources to coordinate both the existing support and training materials, as well as the production of more discipline-oriented and specific resources in order to cover all inherent specifications from each scientific area and for the different levels of stakeholders in higher education (Bachelor, Master, Doctoral, Researchers in different career levels). 
This focus group meeting was a very enriching opportunity to exchange experiences, learn about practices at other universities, and analyse the challenges inherent in developing data-related competences and implementing the FAIR data principles in higher education curricula.
The outcomes from the discussion will be integrated with the information gleaned at the Madrid event and with survey feedback, and incorporated into a landsacape analysis to be be published in month 12 of the FAIRsFAIR project.